'Instagramed' pic of my Sandman Hoggar
Is a fatbike a snowbike, and if so, what is a snow bike doing on a sunny, tropical island like Singapore?
What's a Fatbike?
A fatbike is a bike with a frame and fork designed to use tires around 4" or wider. It requires wider rims, hubs, and bottom bracket.
The Fatbike is an Adventure Bike
My interest in fatbikes peaked when a friend of mine,
Joe Cruz
, toured the length of
South America on a fatbike
, the extra floatation and traction from his 4" tires allowed him to ride on trails that a walker would find challenging. That opened up my eyes to the types of trails I could ride with a fatbike, and to the endless possibilites of where I could take it.
Joe Cruz riding his fatbike in South America. Photo © Tom Walwyn.
The Fatbike is a Trail Bike
Then it occurred to me that a fatbike might actually ride quite well on the local trails we have here in Singapore. Because of our population density, our trails are heavily used, and because of continued riding during the rainy season, the trails are badly eroded, creating steep, loose-rutted conditions and exposing slippery wet roots and rock. As a bonus, a fatbike distributes the weight over a bigger surface, and skids less (depending on how you ride it) and so may possibly contribute less to further trail damage and erosion.
Enter the Sandman Hoggar
When my wife sent me a video of the Sandman in action (below), I knew I had found my fatbike. Not all fatbikes are designed to be snowbikes. Sandman designed their bikes from the ground up to be trail bikes. My Sandman Hoggar is a titanium frame that is designed to use and comes complete with a front suspension fork designed for fatbikes.
Why Sandman.
from
Martín Campoy
on
Vimeo
.
Aesthetically, my size small Sandman Hoggar has very pleasing lines, with an upward curving top tube that transitions seamlessly into the seat stay. I'm about 1.7m (5' 7") with a bike inseam of about 31", and once or twice, the top tube has gotten in the way of a dismounting on extremely steep descents, but mostly, standover clearance is not affected.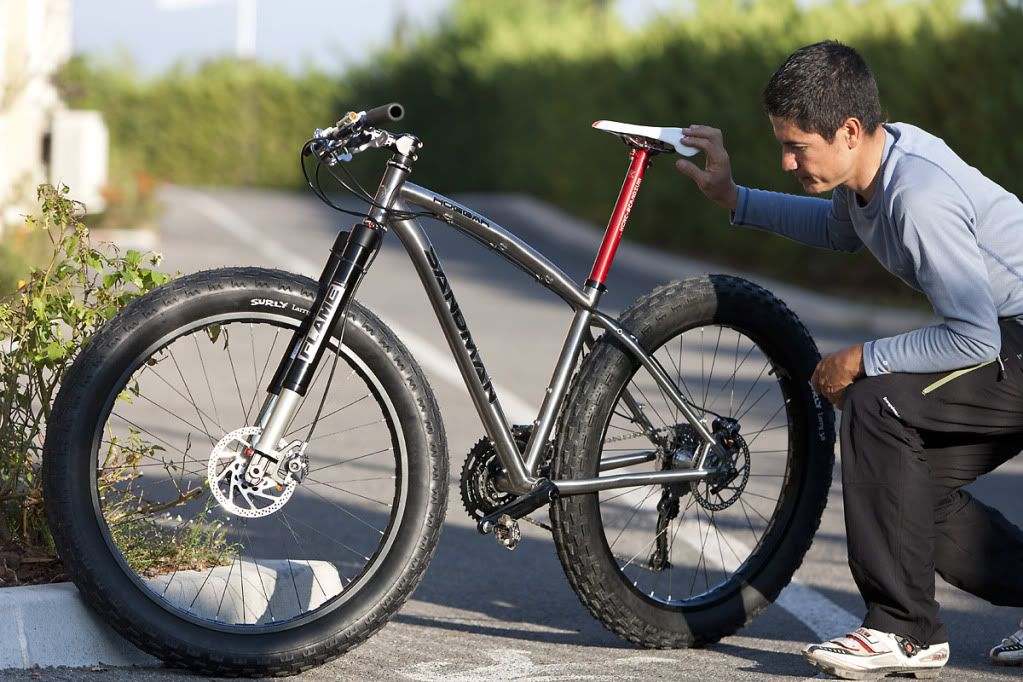 Sandman sponsored rider, Milton Ramos, admiring his Sandman Hoggar. Photo courtesy Sandman Bikes.
Sandman worked out a 'racers package' for me where I bought the bike, without a lot of the beefier (and heavier) All-Mountain parts. My complete Sandman Hoggar weighs 13.2kg (29.1lbs) with Husker Du tires, ultralite tubes, Crank Bros Candy pedals, XT brakes, Sandman racing rear hub, and ultralightweight KCNC and Mt. Zoom parts from
Conticomponents
and
XCRacer
. It's a racy setup, and light for a fatbike, especially for one with front suspension.
The 90mm travel suspension fork is made in Germany by Answer. It's an upside down fork that uses a 20mm through axle. It's stiff as hell, but is a bit of a pain to set up. It's still fairly new, and has a lot of stiction. I'm still experimenting running it with different pressures.
Gabriele Incuria borrowed a Hoggar
and won the hardtail class

of the Italian Superenduro series. Photo courtesy Sandman Bikes.
How does it ride?
Local bike guru,
Poh Yu Seung
took it for a spin and had this to say:
"Carves at high speed, nimble at low speed. Flowy and instinctive. It really opened up my eyes to what a well engineered fatbike can do."
It's a well thought out fatbike. Suspension might not be that important if you are using a fatbike as a snow bike, but for a trailbike, it is greatly improves handling, and Sandman is currently the only fatbike manufacturer to design a fatbike using front suspension. As such, the Hoggar shines on most technical terrain, where I'm likely to be riding more cautiously - that includes anything loose, wet, slippery or big drops.
One reason why the Hoggar feels so agile is Sandman's choice to use lightweight 47mm trials rims on its wheels. Although narrower, these are much lighter than the typical 65mm fatbike rim. The narrow rims have the effect of 'rounding out' the tire profile, somewhat reducing bad tire manners that can be found on 'squarer profile' fat tires at low pressures. It turns out that I can use ultralightweight 2.7" DH tubes which further reduce weight. Narrow rims reduce float, so these may not be the best choice on snow, but for dirt, these are great compromise.
I keep hearing that fatbikes are 'fun', but nobody could really tell me what that 'fun' meant. Having ridden the Hoggar for awhile, I can say that 'fun' translates into more confidence, less fear. There's more traction in the tires, which means better grip over obstacles, and much more powerful braking on steep and scary descents. The increased mass of spinning fat wheels increases gyroscopic force, which means more stability. More grip, more stability equals more confidence, less fear.
Sandman sponsored rider, Milton Ramos, leading a stage at the Titan Desert Classic. Photo courtesy Sandman Bikes.
Downsides
Fatbikes don't do well on anything long, smooth and flat or uphill - like a road. Those fat tires have a lot of rolling resistance. This can be minimized by using higher tire pressures. If there's any such thing as a 'fast' fatbike, the Hoggar is it. However, in general, fatbikes are just going to be slower to accelerate and require more effort to maintain speed on the flats than a conventional mountain bike.
If the Hoggar has a weakness, it's perhaps on climbs where I need to move my butt forward and off the saddle. Sandman won't release the Hoggar's geometry numbers, but the seat tube and head tube angles look fairly slack. That's great for ripping it up, but combine the slack geometry with the increased weight of the fatbike and rolling resistance from the tires, and I find that I'm working quite hard when I'm climbing.
Versatility
The Sandman has another trick up it's sleeve. You can buy a 29er wheelset for it. Say what? Yes, since 4" fat tires on a 26" rim have basically the same diameter as a 29" rim/tire combination, you can equip your Sandman Hoggar with a 29er wheelset. The Sandman does require a 165mm rear and 135mm front hub. This gives you the option to run a lighter weight rig for the times when fat tires are not needed. Sandman has a sponsored rider (Milton Ramos) and he's been racing quite successfully on a Sandman Hoggar running a combination of fat and 29er wheels. Having both a fat wheelset and a 29er wheelset increases the versatility of this bike. Essentially, by using two wheelsets, you have
two
bikes: a front suspension fatbike, and a 29er hardtail.
Milton Ramos racing the Sandman Hoggar using a 29er wheelset. Photo courtesy Sandman Bikes.
If you can't afford a second wheelset, but want to put in some road miles with the Sandman, you could do it with a fat road tire like the 26"
Schwalbe Big Apple 2.35
. Those tires fit fine on the Sandman's 47mm 26" rim, but will lower the whole bike a bit, and quicken the steering.
Who's the Sandman for?
I'll stick out my neck and say this is a near perfect trail bike for Singapore. Our trails are also very short in length and we don't have big hills. Our trails are also very loose, badly eroded, and often wet with slippery roots and logs, and no sticky mud.
If you are the sort of person who dreads riding technical sections, give a Sandman a try. However, if you are the sort of person who covets speed and loves being in the front of the pack; or who is struggling to keep up with the pack, this may not be the bike for you. The Sandman is a great confidence booster, but comes with the cost of more rolling resistance requiring more power and energy to pedal.
The Sandman is also a great choice for someone who wants one bike (but with two wheelsets) to do it all. It can be a fatbike for the winter, or trail riding; and a 29er hartail for the summer or racing.
Conclusion
I love my Sandman Hoggar. I love the way it looks, and how it rides on technical terrain. I'm not fast and efficient on it, so if the ride is going to be long or fast, but not too technical, I ride my other bike. If I had a second wheelset for it (ie, 29er wheelset), the Hoggar could be my only bike.
Sandman Bikes are available direct from
Sandmanbikes.be
.
They come in sizes S through XL, and some models are available in a custom XS.
Disclosure: Although I paid full price for my Sandman Hoggar, Sandman did subsidize my shipping cost.